Jump to Recipe
UPDATE 2023: I recently found a way to make black buttercream with ZERO food color gel, so if you're looking for a dye-free alternative be sure to check out this recipe.
Spooky season is here and with it, lots of black buttercream cakes. I'm no stranger to the trend and before now I've stuck with a method of making my Favorite Chocolate Buttercream recipe and adding a few Tbsp of AmeriColor Super Black. Since this food color gel is tasteless, the black buttercream still tastes like chocolate buttercream but there is one little problem: it stains teeth temporarily (among other things). So I thought I'd do a little research and experimenting to see if I could create a black buttercream recipe that not only tastes great, it uses as little food coloring as possible to get a nice deep color.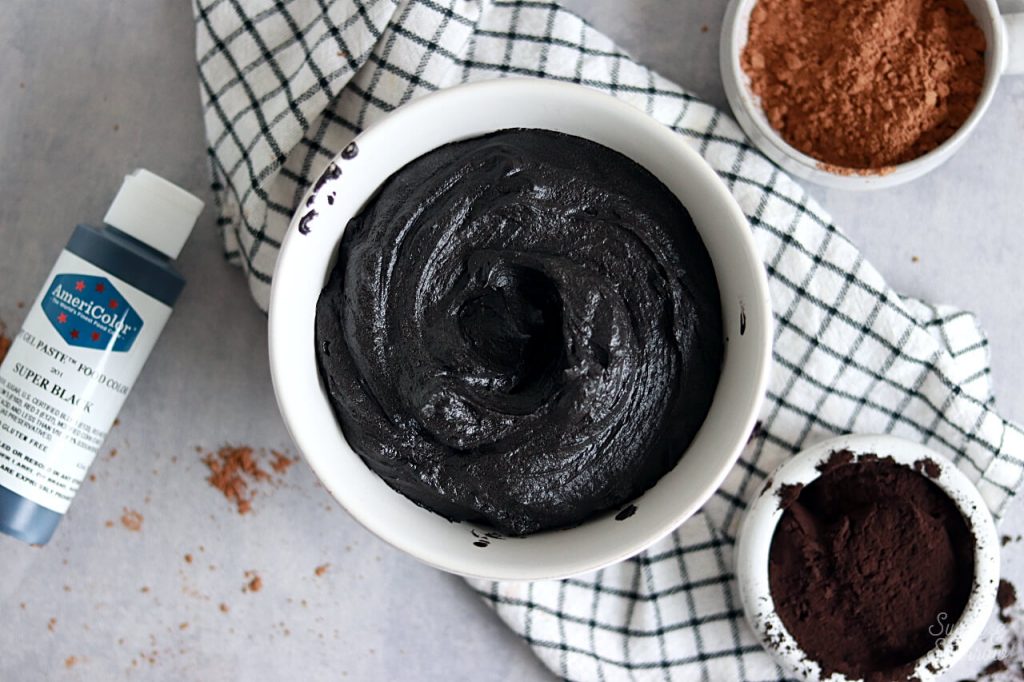 First, I ordered some black cocoa powder. It's cocoa powder that has been heavily Dutched, aka alkalized. It helps provide a rich black color, so I swapped the cocoa powder in my Chocolate Buttercream recipe with it to see if it would be all it took. The results: a really dark brown buttercream that tasted a bit bitter, almost like a dark chocolate buttercream. I still needed to use about ½ tsp of AmeriColor Super Black to get it looking right, and it passed the "no teeth stain" test, but I really wanted to make it taste amazing. If flavor isn't an option (or if you're a fan of dark chocolate unlike myself), this route is definitely worth a try!
Since I wanted to get that perfect balance of chocolate flavor, deep black color, and perfect consistency without using too much food coloring, I tried again. This time, I used a mix of half black cocoa powder and half regular (Hershey's) cocoa powder. The results were again a dark brown color, and this time I had to use about ¾ tsp AmeriColor Super Black. BUT all that to say, this one is the winning black buttercream recipe in my eyes – it passes the "no teeth stain" test, has the perfect black color, and tastes just like my Favorite Chocolate Buttercream recipe. It's the one I'll put below. 
3 Key Elements for Black Buttercream Success
If you've ever tried to turn a big batch of vanilla buttercream black using only food coloring, you know that it takes a lot of coloring. So much that it can not only ruin the flavor and consistency of your buttercream, it's costly and isn't really fun to eat because everyone is left with a black mouth. Instead, going from a deep brown color (aka chocolate buttercream) to black is much easier and takes a lot less coloring. Before you get to buttercream making, here are three key things to keep in mind for black buttercream success:
Start with a chocolate buttercream recipe. It's much easier to go from brown buttercream to black than it is to go from white to black. By adding cocoa powder into the mix, you save yourself a lot of food color gel (and stress!). I prefer using half black cocoa powder + half regular cocoa powder in my recipe below. You can certainly substitute the regular cocoa powder in the recipe with all black cocoa to use even less food color gel, but the taste will be more like a dark chocolate as opposed to a milk chocolate buttercream.
Use a concentrated black color gel. I swear by AmeriColor Super Black because it's so concentrated that you truly don't have to use a whole lot to get a rich black color. It's also formulated in such a way that it won't affect the flavor or consistency of your buttercream.
Give it 24 hours to deepen in color. It may look like wet concrete when you first mix it up, but time is magic with this stuff. Give it at least 24 hours to deepen in color and you'll be blown away at how dark it gets. This is definitely worth making ahead.
Here's a quick video that shows you how to whip this black buttercream recipe up.
PS: If you're into recipe and cake decorating videos like this one, be sure to follow along on my YouTube channel! You'll find my entire Cake Basics series in video format there, plus tons of recipes and cake decorating tutorials as well. Hit the subscribe button so you never miss a new one! Without further ado, here's the recipe:
Black Buttercream Recipe
A pitch black buttercream that checks all the boxes: decadent chocolate flavor, perfect consistency, and won't stain your teeth!
Ingredients
1

Cup

(226g) unsalted butter, room temperature

3 1/2

Cups

(420g) powdered sugar

1/4

Cup

(30g) black cocoa powder

1/4

Cup

(20g) natural unsweetened cocoa powder

4

Tbsp

whole milk, room temperature

2

tsp

pure vanilla extract

1/4

tsp

salt

3/4

tsp

AmeriColor Super Black

or other black food color gel
Instructions
In a stand mixer fitted with a paddle attachment, whip the butter on medium speed until creamy and light in color, about 4 minutes. Scrape down the bowl and paddle, then add the powdered sugar, cocoa powders, milk, vanilla extract, and salt. Turn the mixer to low until all ingredients start to come together.

Add the black food color gel, increase the speed to medium and beat for two full minutes. The color will resemble wet concrete at first, but will darken as time goes on.

Place the buttercream in an airtight container and allow the color to deepen for 24 hours or more.
Notes
Make Ahead Tips: this buttercream can be made ahead and stored in an airtight container at room temperature for up to 1 day. Alternatively, you can store it in an airtight container in the refrigerator for up to two weeks. When you're ready to use it, bring it back to room temperature and rewhip with your stand mixer to bring back to frosting consistency. 
Yield: This buttercream makes enough to:
Frost 12-15 cupcakes with a piping bag
Fill and crumb coat a three-layer 6-inch cake or two-layer 8-inch cake. To have enough for frosting and decorating as well, double the recipe. 
Did you make this black buttercream recipe? I want to know how it went! Let me know in the comments below and feel free to tag @sugarandsparrowco on Instagram and show me. I love to see what you create!