I don't know about you, but every time I go to a JOANN store I end up wandering down all the aisles and tossing things into my cart that I did not expect (but am pleasantly surprised!) to find. Things like the perfect throw pillows for my couch, pretty pots for my plant babies, and just the other day, I wandered down the yarn aisle and stumbled upon this wool yarn by a brand called Buttercream. It felt like fate, because I want to learn to knit irl and was in need of some Fall cake inspiration. I may not be able to knit a cozy sweater yet, but I sure can make a buttercream cake look knitted with the right piping tips!
After the impulse Buttercream yarn purchase and a bit of research on knitted buttercream piping techniques, I decided to order all of the supplies on JOANN's website and use their in-store pickup option just to see what it was like. I was so happy with how convenient it was! Did it stop me from wandering down the aisles and impulse buying some Fall home decor? Absolutely not. But it is so nice to know that the items I needed were ready and waiting for me at the checkout counter.
This cake requires just three piping tips (Wilton 1M, 4B, and 3) and an extra dose of patience, which is so worth it for this end result! There's a major pro tip in the tutorial below that details how to get the knit lines so straight. I ended up using the Wilton Color Right system to create the purple buttercream color so that it matched the yarn perfectly. And as an optional cake topper, I found the perfect bamboo knitting needles to finish the look. I love everything about this cake.
Here's a quick video to show you all the tips and techniques before you read all about them below:
If you're into video tutorials like this, be sure to check out my YouTube channel. There are tons of videos there to inspire you and show you the ropes of cake decorating! And I'm always rolling out new ones, so be sure to subscribe so you don't miss a thing.
You Will Need
6 inch cake that's been crumb coated and chilled
1.5 batches of vanilla buttercream
Food color gels of your choice (optional)
Cake turntable
Angled spatula
Icing Smoother
Piping bags
Step 1: Color the Buttercream (optional)
You can choose to leave the buttercream white or tint it with some food color gels of your choice. I ended up using the pink and blue gels from the Wilton Color Right Food Coloring System to create this warm purple tone that matches the Buttercream yarn as closely as possible!
I love how easy it is to create totally custom colors with these food color gels, and it comes with a handy guide in case you aren't sure about color theory.
Step 2: Frost the Cake
Before we start piping, I find it best to frost a thin layer of smooth buttercream beneath the piped finish. This way any spaces that peek through your piped patterns will match exactly, making the texture look flawless. With your chilled, crumb coated cake on the turntable, smooth a thin layer of buttercream on top of the cake using your angled spatula, then cover the sides with buttercream.
Next, use your icing smoother to create a smooth, even buttercream finish. No need to worry about small imperfections, but make sure the sides are as straight and level as possible.
You'll notice a little crown appear around the top edge as you smooth the sides of the cake, and you can use your angled spatula to drag those edges inward to create sharp edges.
Step 3: Create the Guidelines
If you're wondering how to get the knitted piping perfectly straight horizontally, this is my favorite hack. I used the square tooth comb from the Wilton Icing Comb set to gently create evenly spaced horizontal lines around the cake. Just turn the cake while you gently comb the sides.
And for the top, I placed the same icing comb onto the center and swirled it around to create lines there too. These lines are the perfect piping guide!
Once your cake finish is perfectly striped, pop the cake into the refrigerator to chill for about 20 minutes while you practice your piping.
Step 4: Practice Piping Techniques and Make a Plan
While your cake is chilling, it's best to prepare your piping bags and make a plan before you begin piping on the cake. Count how many rows (the lines from step 3) you've got on your cake and draw them out on a piece of paper. I had 17 rows to fill in, and knowing that helped me plan out which piping techniques I wanted to use on each section of the cake. Feel free to copy the pattern in step 5 if you have 17 rows, adjust it to fit more or less rows, or draw out your own design!
I came up with three different techniques for the knitted piping, shown in the photo below. If you want to practice them before you start on the cake, you can pipe them out on a piece of wax paper to get the hang of it.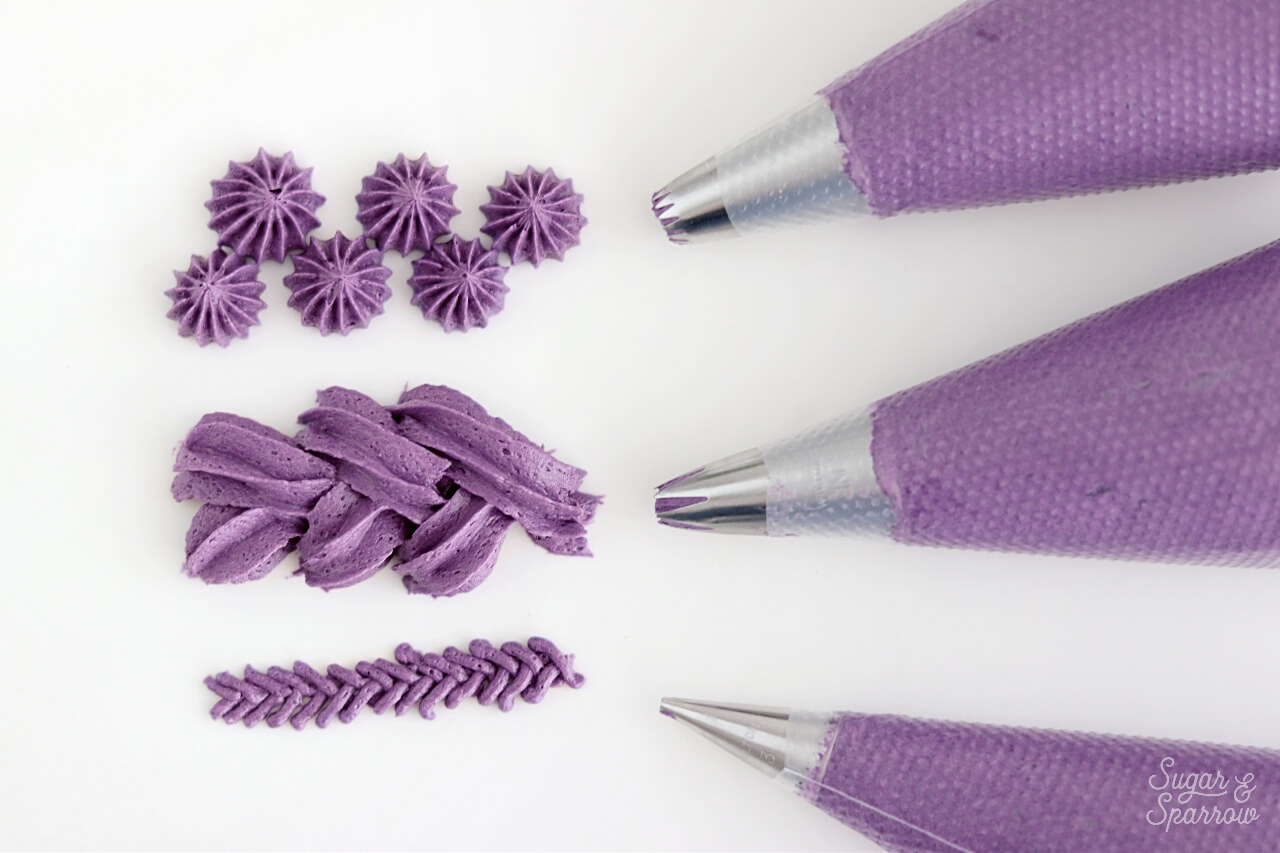 Technique 1 (the top row above) is made with Wilton Tip 4B and simply involves piping stars.
Technique 2 (the middle row above) is a cable knit texture created with Wilton Tip 1M. You can get the look by piping a braided pattern, or piping a series of v shapes that overlap.
Technique 3 (the bottom row above) is your basic small knit texture, created with Wilton Tip 3. It's similar to the technique above it, but instead of piping v shapes, you'll be piping x shapes that overlap. This way, the top of each x looks like a v. Continue until you have a series of knits that look like the bottom row in the photo.
Step 5: Pipe the Sides of the Cake
Using the techniques shown above, I started at the bottom of the cake and piped a row of stars with Wilton Tip 4B, then filled in the subsequent three rows with Technique 3 (tiny knits):
I piped Technique 1 to fill in the next two rows, then Technique 2 to fill in the subsequent four rows:
The cable knit piping is basically the middle of the cake, so I repeated those techniques in reverse order to reach the top:
Step 6: Pipe the Top of the Cake
Similar to the planning session for the sides of the cake, count how many rows you've got on the top of your cake and decide how you want to fill them in. I started my design with one open star in the middle of the cake, then filled in the next four rows with Technique 3.
Then, I finished the top with another round of cable knit piping using Technique 2.
This part is totally optional, but I thought it would be so fitting to top the cake with these bamboo knitting needles once I was done with all that piping:
You might need a hand massage after this one, but this knitted buttercream texture is unreal and totally worth it!
Whether you're in need of the perfect piping tips for this cake design, some cozy wool yarn for your next real life knit, the prettiest home decor for Fall, or all of the above, JOANN is my go-to place for all of it. Be sure to check out their website and try the BOPIS (buy online, pick up in-store) feature if you want next level customer service! I can't promise that it will stop you from wandering the aisles and impulse buying other things, but it's great to have everything you need ready to go at the checkout counter.
Disclaimer: I was compensated by JOANN for my work of creating this project, styling, filming, photographing, and writing about their products. As always, all opinions are honest and my own. Thank you for supporting brands that support Sugar & Sparrow.