I'm a buttercream cake lover through and through, but when it comes to making handmade decorations and cake toppers, fondant is my jam. It's essentially like playdoh (but edible!) that you can paint, cut into shapes, and mold into all sorts of intricate designs! So when JOANN sent me one of their new Tasty by Wilton: Fondant Skills 101 Kits, I got really excited to see what I could create with it. Spoiler alert: I had a lot of fun with this kit!
These Fondant Skills 101 Kits come with everything you need to create fondant decorations for cakes, cupcakes, brownies, and cookies. Inside, you'll find some basic instructions on working with fondant and so many tools and supplies for getting artsy with it. There's a paint palette, paint brush, and food color that you can mix with water for painting on fondant. A geometric-textured mat for embossing the fondant. And even a piping tip with a circular opening that you can use to create fondant sprinkles. I wanted to try it all, so I made some painted decorations, used the texture mat, and made my own sprinkles. So fun!
I think adding fondant accents to buttercream cakes can be such a fun way to mix mediums and achieve some really artistic looks. The best thing about using fondant decorations is that they're 100% edible, fondant dries firm in about 24-48 hours, and it's really easy to work with. This Fondant Skills 101 Kit is perfect whether you've never worked with fondant before or you want to try a variety of fondant techniques in a cost effective way (only $10!).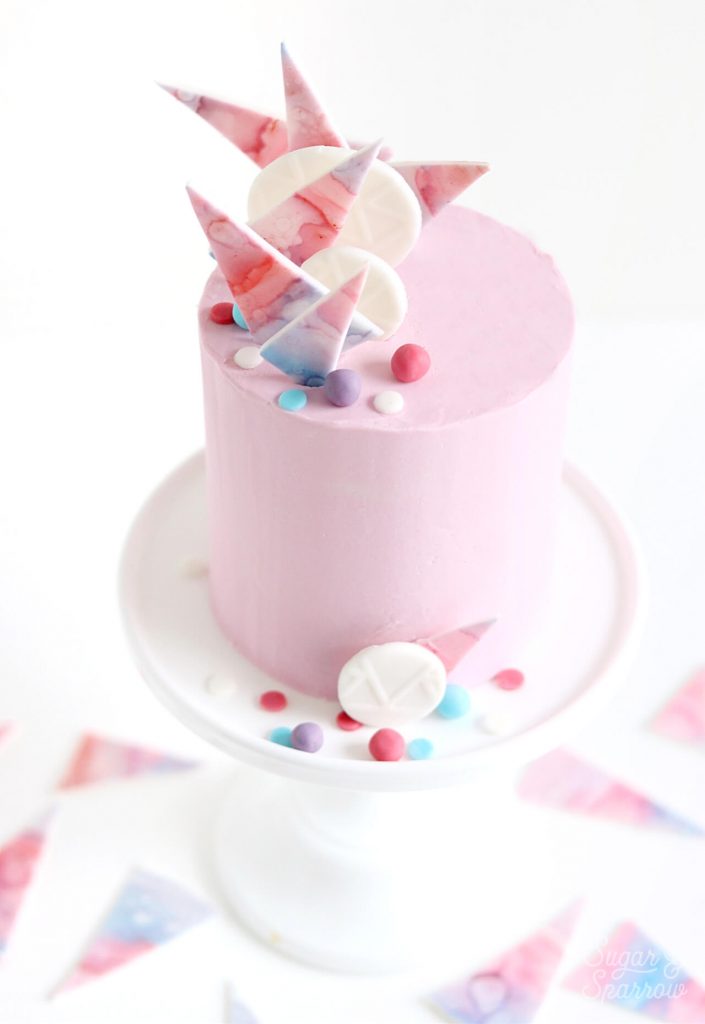 I'm walking you through the different types of fondant decorations I created with this kit below, but first, here's a quick video of all three to show you in action:
You Will Need:
Tasty by Wilton Fondant Skills 101 Kit
Cornstarch or powdered sugar
Vegetable shortening
Sharp knife
Buttercream frosted cake, any size (mine is a 4" round)
How to Make Watercolor Fondant Decorations
Open one of the fondant packages and knead it until the consistency is moldable and even, similar to Playdoh. You can add a little vegetable shortening to your hands if you find they are sticking to the fondant.
Place a little cornstarch or powdered sugar on a flat surface to prevent the fondant from sticking, then use a small rolling pin to roll the fondant into about an ⅛ inch sheet.
Let the fondant sit while you mix up your paint colors. On the paint palette, add a few drops of whatever blend of colors you'd like, then mix a few drops of water into each color. The kit comes with primary colors (red, blue, yellow), so I created some pinkish reds, purples, and blues. Mix it with just a little bit of water for a stronger color, or a lot of water for a softer hue. When your colors are ready, use the paintbrush to paint them onto your fondant canvas.
I added broad strokes of each color and splattered a little extra water over the top of the canvas to let the colors bleed a bit.
When you're satisfied with how your painting looks, cut the fondant into shapes. I used a sharp knife to cut the painted fondant into isosceles triangles, but you can create any shape you want with a knife or cookie cutters!
Once your shapes are cut out, place each one onto a sheet of wax or parchment paper to dry. I recommend allowing them to dry for 24 hours, then flipping them over and allowing the other side to dry for at least 12 more hours.
How to Make Geometric Print Decorations
To make the geometric printed circles, open the second package of fondant and follow the steps in the previous section to knead the fondant and roll it into an ⅛ inch sheet. Then, take the geometric texture mat, place it on top of the fondant sheet, and roll over it with the rolling pin a few times.
Peel off the texture mat to reveal a glorious geometric pattern.
You can cut this fondant into any shape you want, or even paint over it at this point using the steps in the previous section. I chose to keep these decorations white and used these cookie cutters to cut out circular shapes.
Place your geometric print decorations on a sheet of wax or parchment paper, then allow them to dry for 24 hours on one side before flipping them over and drying for another 12 hours.
How to Make Fondant Sprinkles
For this technique, I colored the remaining fondant with the food colors from the kit, then rolled all of them out into an ⅛ inch sheet. Using the small end of the green piping tip, press into the fondant sheet to cut out small circular sprinkles of each color.
Using the wide end of the green piping tip, cut out larger circles from each color. Then, roll each large circle into a ball.
Fondant sprinkles are so easy and I love how customizable they are! Imagine all the color palettes you could create.
Allow the fondant sprinkles to dry for about 24 hours, or until they're firm.
Decorating The Cake
All that's left to do is add your fondant decorations to your buttercream cake and make a mixed medium masterpiece! To add my decorations, I simply stuck the watercolor triangles and geometric print circle decorations into the top of the cake. It's easy to stick them straight into the buttercream and they'll stand on their own (they weigh barely anything). Then, I added some fondant sprinkles around the toppers.
I also placed some of the fondant decorations to the side of the cake with a few dots of buttercream and added even more fondant sprinkles.
These fondant accents ended up making this cake look super abstract and I am so into it!
I love that this Fondant Skills 101 Kit comes with all the supplies you need for these three techniques and so much more – you can easily combine the techniques for even more decoration styles! Wilton's new Tasty line has even more fun kits like this for cake decorating and they're available now at JOANN. Go check them out at your local JOANN or in their online shop. I have a feeling you're gonna have so much fun with these kits no matter what your cake decorating skill level!
Disclaimer: I was compensated by JOANN for my work of creating this project, styling, filming, photographing, and writing about their products. As always, all opinions are honest and my own. Thank you for supporting brands that support Sugar & Sparrow.