The Holidays are officially here, people! I know I'm not alone when I say that one of my very favorite things about this magical season is all the baking. It's just the coziest time of year to do it. I've been thinking about how fun it would be to bake as an online community, and these mini Christmas tree cakes are the perfect little project to bring us all together. So thus begins… a Holiday Bake-Along!
This Holiday Bake-Along begins on December 1st and ends on December 24th, 2021. Here's everything you need to know if you want to participate:
Make a mini Christmas tree cake using this tutorial.
Decorate it however you'd like. I've posted pictures of a few different ideas below.
Post a photo on Instagram and tag @sugarandsparrowco in the image so I can see and share it.
Use the hashtags #SugarAndSparrow and #HolidayBakeAlong so you can see everyone else's cakes and cheer each other on!
Check my Instagram Stories all throughout December to see your photos featured. I'll be posting photos of your creations on my blog as well (all with your permission, of course!).
Since there are countless ways you can decorate these mini Christmas tree cakes, I'm really looking forward to seeing your creativity! Here's a video showing a few ideas I've come up with to inspire you:
Traditional
This is the very first Mini Christmas Tree Cake design I created and it's so simple to replicate. I piped green buttercream with Wilton Tip 4B to get the leaf texture, then added sprinkles all over. Since it's the same design from the original Mini Christmas Tree Cake tutorial, you can follow the step by step here to get the look.
Retro Shag
There's nothing more fun than a shag Christmas tree, and this design will work in any color you want. You'll just need Wilton Tip 233 (the grass tip), some fun sprinkles, and you're good to go.
Glitzy & White
No food coloring necessary for this one! You'll just need some white frosting (here's the Vanilla Buttercream recipe I use), Wilton Tip 4B, and pretty sprinkles. Make it even more glam with some gold luster dust!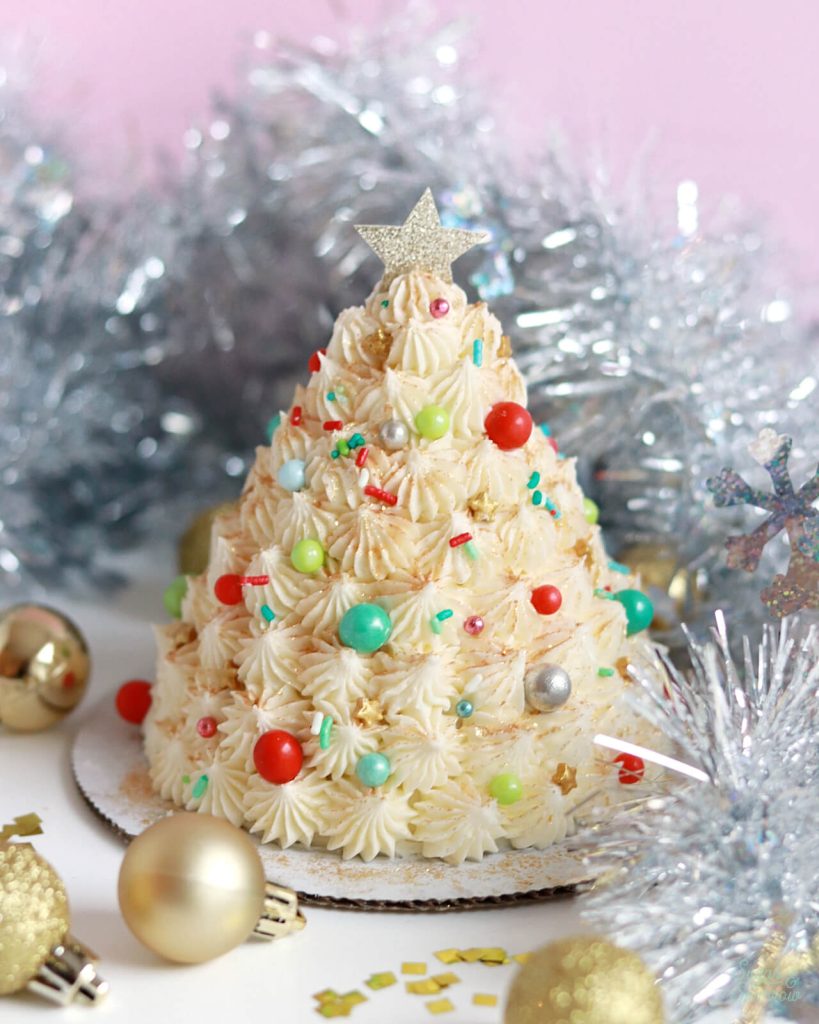 Merry & Bright
This design is so satisfying to create and to look at. It uses Wilton Tip 32 to pipe overlapping vertical lines starting at the bottom of the cake and working your way up.
Snowy Swirls
The best thing about this design is you don't need any piping tips. You can get this look by swirling a small spatula (or a butter knife!) through the frosting. Add a little powdered sugar "snow" for some Winter wonderland vibes!
I am so excited to see your Mini Christmas Tree Cake designs! Let me know if you have any questions below. And if not.. Ready, set, BAKE.