Of all the things you can paint with, buttercream remains one my favorite artistic mediums. Yes, it's only temporary art because it's the edible kind, but there are so many ways you can get creative with colors and techniques! One of the simplest edible art projects you can do is create a watercolor buttercream masterpiece as a cake finish, and although this tutorial focuses on how to get the look with a watercolor ombre, you can easily use this same technique on your entire cake.
When creating a watercolor finish, the first thing I do is think about a color palette. Sometimes I flip through Pantone swatches for inspiration and sometimes I just fly by the seat of my pants (usually the latter approach), but it's always a good idea to have a plan before you start mixing up colors.
After having taken a few painting classes in my adolescent years, I know my way around the color wheel and which food color gels to blend to get the look I'm going for. If you haven't a clue on how to mix colors, Wilton makes a pretty awesome set of food color gels called Color Right that includes all the gels you need to achieve any color of the rainbow (and then some). It's even got a handy chart to help you mix up whatever hue you're into.
Here's a quick video of the watercolor technique before you read about how to get the look:
You Will Need
Color Gels (here's the Wilton Color Right set)
A fresh batch of vanilla buttercream or other white-colored frosting

A cake that's been filled, frosted, and ready for it's final coat

Mixing bowls and spoons

Toothpicks

Cake turntable

An offset spatula

Bench scraper
Step 1: Fill And Frost Your Cake
Before you start creating a watercolor masterpiece, you'll need a good blank canvas to paint on. Fill and frost your cake with a white or solid-colored buttercream so you've got a smooth finish that's just waiting for a final coat.
It's best to chill the frosted cake in the refrigerator for a good half hour or more so it's easier to work with.
Step 2: Mix Up Your Colors
While the cake is chilling in the refrigerator, mix up the colors you want to use into your buttercream. I like to color a little at a time, which is where the toothpicks come in handy. Instead of squirting the gels into the buttercream, I like to apply a little of the color to a toothpick and then dip that into the buttercream before mixing and seeing if I need more. This way, you can control the hues a little bit better. Keep in mind that your colors may darken slightly as they settle in, so be sure to allow for the darkening process if you're trying to get a really specific shade.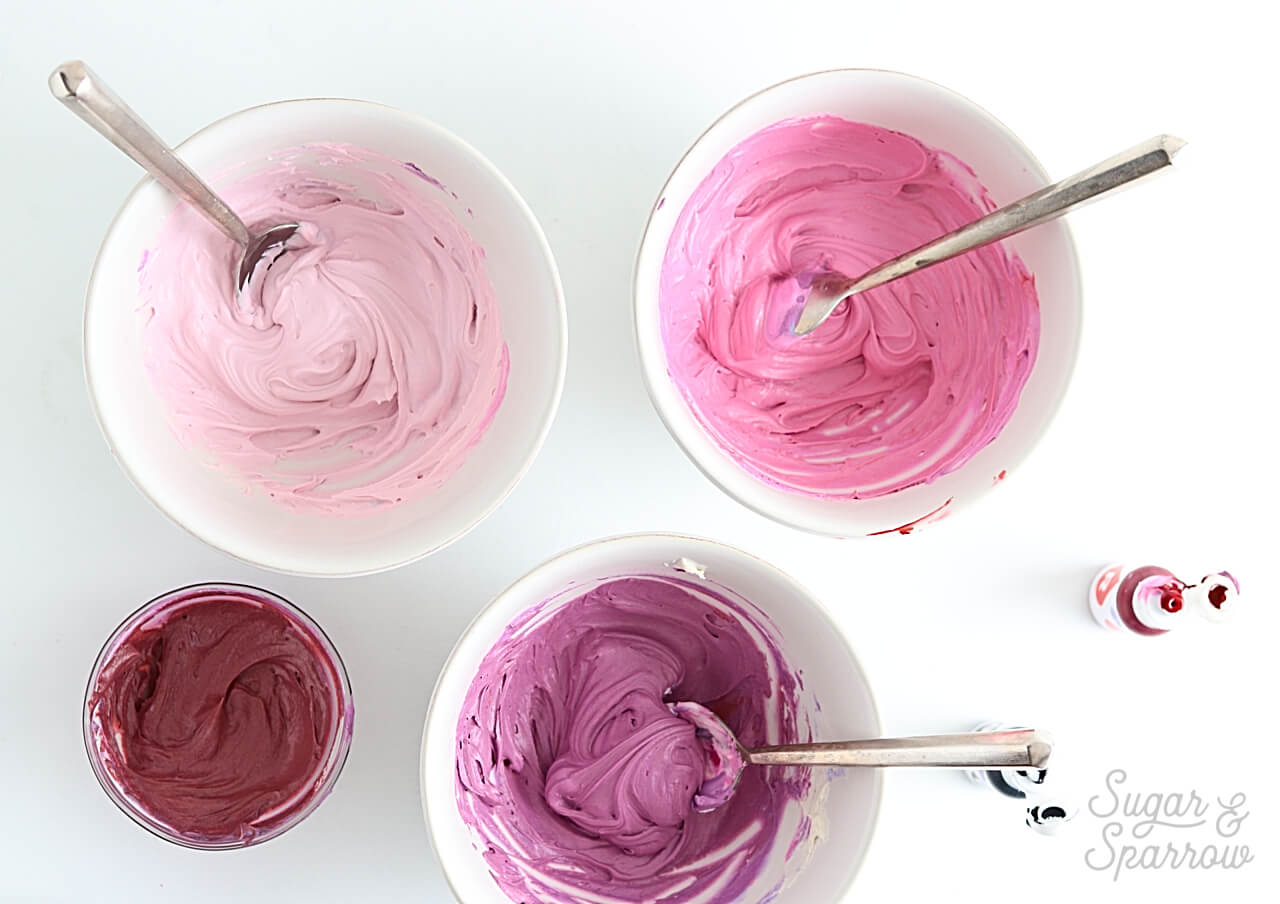 For this tutorial, I've created a brick red (Crimson + Rose Pink + Blue + a little Black), a purplish pink (Rose Pink + Blue), a bubblegum-toned pink (lesser amounts of Rose Pink + Blue), and a light blush tone (I mixed a tiny amount of my brick red with lots of vanilla buttercream). It's always a good idea to keep some plain white buttercream around in case you need to tone down the color.
Step 3: Start Painting And Smoothing
After your blank canvas is chilled to the point where you can touch it and not leave a fingerprint, start applying your colors to the cake by touching them to the surface with your spatula. Try to start small by only adding a little color, smoothing the finish with your bench scraper, and then seeing where you want to add more color.
If you come on too strong with your colors, there's an easy fix! Simply apply the white buttercream over the top of the colors and use the same smoothing technique to tone things down.
Step 4: Keep Decorating
Once your watercolor design is looking top notch, you can keep up the creativity by using some other design techniques. In this cake design, I've created a drip with chocolate ganache, added fresh flowers and chocolate disks to the top, and splatter painted with some Rose Gold Edible Art Paint.
Want to see some of the other looks and cake decorating techniques I've been loving? Head on over to my Pinterest!