I LOVE working with rainbow color palettes in my cake projects, whether the colors are pretty pastels or bright and bold. Over the years, I've learned a thing or two about making my buttercream colors cohesive, aka making sure the hues go together perfectly. When you're mixing up a palette that has several colors in it, it can be really easy to go overboard and make some colors too dark, too bold, too warm, too cold, or otherwise just not the hues you were going for. To save you that stress, I've gathered my best tips for mixing perfect rainbow buttercream colors that go together flawlessly for decorating.
The thing that makes this rainbow color palette extra cohesive is mixing up the primary colors first (pink, yellow, and blue), then mixing those colors together to make all the colors in between (orange, green, and purple). This process can help tie the color palette together better than mixing each of the 6 colors individually. You're able to customize each color as you go along (add more pink to your purple to warm it up, add more blue to your green to cool it down, etc) without going overboard or making any color more vibrant than the rest. It helps to know a little bit about color theory for making adjustments, but even if you don't know the first thing about color theory, this blog post should help.
A Word About Color Gels + Buttercream
The color gels I love most for my cake projects are AmeriColor Soft Gel Pastes and the Wilton Color Right Performance Food Coloring System, and I always use them with American Buttercream. Note that if you're using a different kind of buttercream, it may not take these color gels as easily. For meringue based buttercreams, I recommend using oil-based color gels like Colour Mill for best results.
Before we get started with color mixing, here are a couple other blog posts that could really help with getting your buttercream just right, including my go-to buttercream recipe:
Here's a video of the entire rainbow color palette process in case you want to watch vs. read about it below:
If you're into cake videos like this one, be sure to check out my YouTube channel for further learning! I'm always rolling out new videos, so click the subscribe button while you're there to ensure you never miss a new one.
You Will Need
Step 1: Mix the Primary Colors
Reserve 1-2 cups of buttercream (in case you need to tone any colors down), then divide the rest of the buttercream between three bowls. The primary colors are yellow, blue, and red (in this case, pink), so those are the colors we'll mix first.
Add a few drops of pink or red into the first bowl, a few drops of blue into the second bowl, and a few drops of yellow into the third bowl. It's best to start with a small amount and add more color gel from there, especially if you're mixing a pastel color palette. Keep in mind that the colors will darken slightly with time.
Step 2: Mix the Secondary Colors
Once you've got the perfect primary colors, it's time to mix the secondary colors. When you mix together any two primary colors, the result is a secondary color:
1 part Red + 1 part Yellow = Orange
1 part Yellow + 1 part Blue = Green
1 part Blue + 1 part Pink = Purple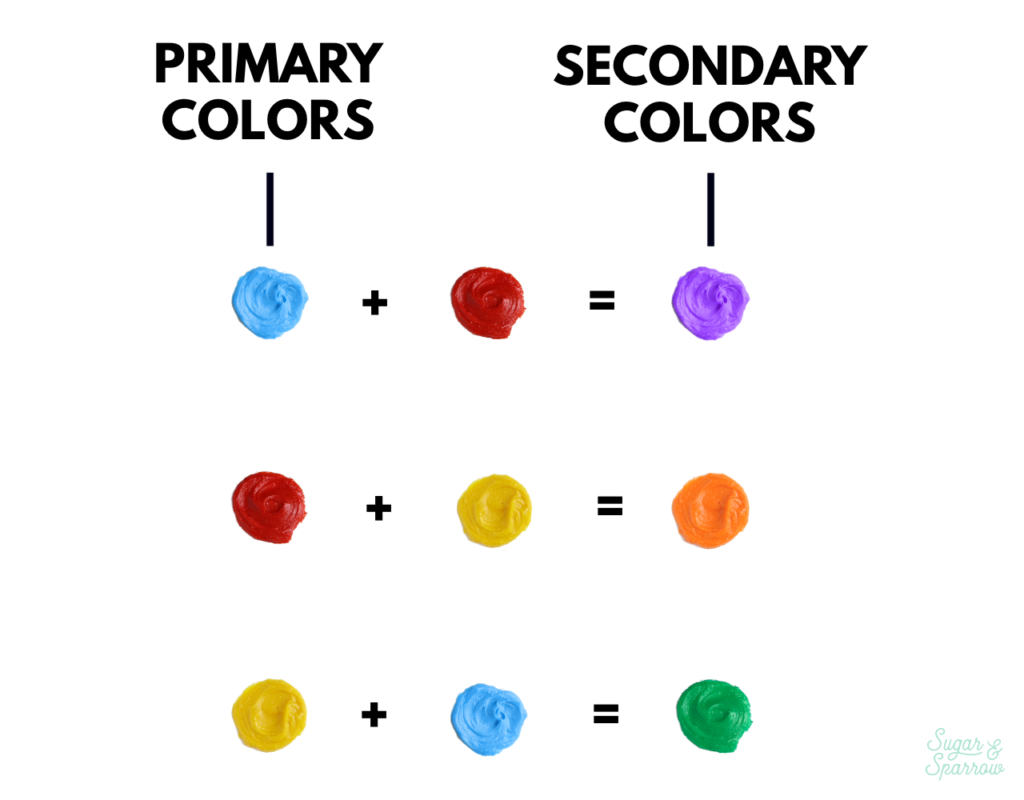 Use the formulas above to mix the primary colors together into three new bowls. Start with about ¼ Cup of each primary color and add more as needed in the next step.
Step 3: Adjust Color Temperature as Needed
At any point in your color mixing, you can customize any color by changing its temperature. For example, if your green is looking too yellow (or too warm), adding a little more blue can help cool it down. If your orange is looking too pink or red, add a little more yellow to balance it out. Here are some formulas (and a mixing chart!) to help you make the perfect tones:
Green + more Blue = Blue-Green (cooler)
Green + more Yellow = Yellow-Green (warmer)
Purple + more Blue = Blue-Purple (cooler)
Purple + more Red = Red-Purple (warmer)
Orange + more Red = Red-Orange (cooler)
Orange + more Yellow = Yellow-Orange (warmer)
When adjusting your color temperature, start with 1 Tbsp of added primary color and add more from there if needed. Again, it's best to start small.
Once you're happy with your rainbow color palette, you're ready to start decorating! Here are some rainbow cake projects to inspire you:
Pastel Rainbow Birthday Cake: I used a pastel rainbow color palette to create this pretty piped cake. The full tutorial is here.
Cascading Rainbow Cake: I used the same piping techniques from this cascading cake + added these cute little icing rainbows I found from Wilton.
Piped Rainbow Ombrè Cake: I mixed three different shades of each rainbow color on this cake, then used Wilton Tips 1M, 32, and 16 to create the textures as I piped all the colors in an ombrè layout.
Spatula Painted Rainbow Cake: I mixed lots of different rainbow shades for this one and used this spatula painted technique to apply them as a gradient.
I'd love to see what you create with your rainbow color palette! Leave a comment below letting me know about your project or feel free to tag @sugarandsparrowco on Instagram to show me. I love to see what you create!